Hello everyone! Hope you're having an amazing morning, just like me. Yes, I have again found a new love to entertain you with while my Halloween decor is in its final stages. I hope to be done by Monday hopefully.
Anyways, I have mustered up the courage to try my hand at sewing. I have loved some DIY's and pinned them to look into later. And that 'later' just came. I am in LOVE with these unique and beautiful cushions. Also, I could really use some to brighten up my home. Have a look and give me your thoughts. Also any advice, tips etc would much be appreciated.
*Drum roll please*
SEWING FOR DUMMIES BEGINS...NOW :)
I hope I can accomplish any of these wonderful ideas!
These look fairly easy and simple. Though, I am in doubt about washing and laundry. Will the fabric paint come off or smug over? Will just have to do more research (please don't roll your eyes at this point, encourage a beginner if you're a pro!) *pretty please*
Via Brit + Co.
Love these candy stripes! Looks so chic and funky. Lovely idea.
Round cushion look great with textured fabrics, such as these white beauties, love the ruffled look.
If you have colored upholstery and furniture then black and white combinations just do the trick! My favorite is the polka dots!

Chevron works beautifully to give a classy look to the room.
I especially want to try this, again after researching the washing instructions. I love tree, flower, plant stenciled patterns. This coral one is done brilliantly!
Via Mer Mag
Ahh, this heart painted cushion on a vintage distressed chair just takes my breath away. *Heart fluttering*
These cuties were just adorable! I so wish I could have started on this earlier this month, would have incorporated so many of these in my Halloween Decor!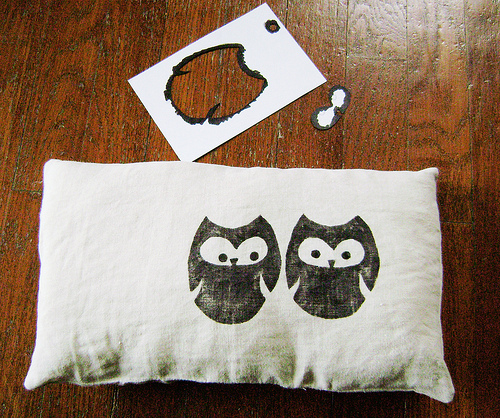 Via Flickr User
And yes 'bows, flowers and hearts' are my weakness. By now I am not shy to disclose the 'romantic' I am at heart! These look divine!
Hope you enjoyed my cushion ideas, do drop in your thoughts, tips and advice. It would be highly appreciated by a new comer!
Much love,
Eva